(Cross-posted from retrospective.thatcamp.org/2020/01/31/announcing-thatcamp-retrospective-and-sunsetting/ )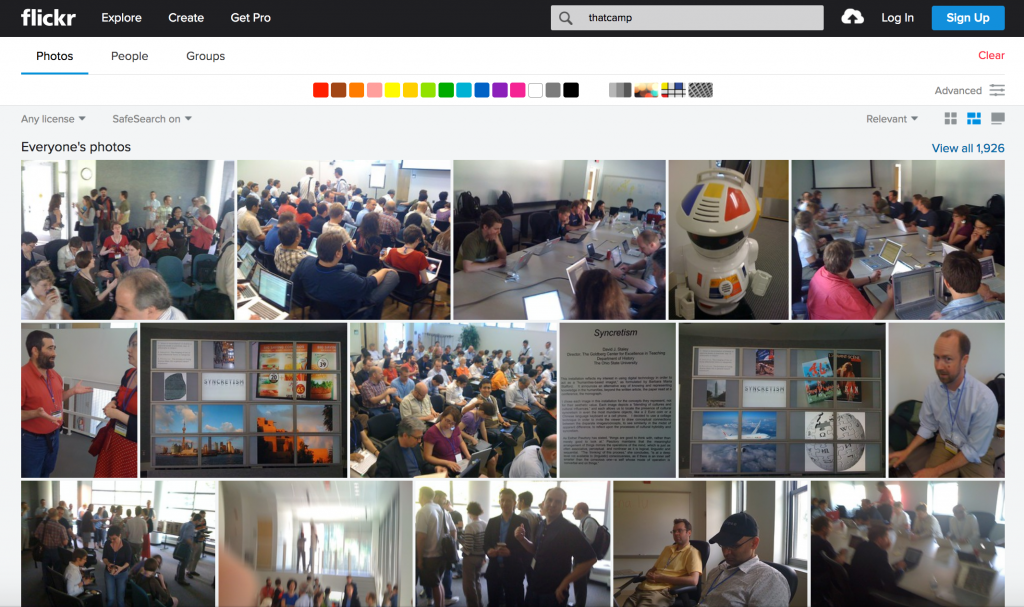 The first THATCamp (The Humanities and Technology Camp) was held at the Center for History and New Media (now the Roy Rosenzweig Center for History and New Media) at George Mason University in the summer of 2008 (back when Flickr was a big deal — click the above screenshot to browse THATCamp photos on Flickr). I wrote a fair amount about how THATCamp first came to be and how it was turned into a larger initiative in a 2013 talk called "On Projects, and THATCamp." Nearly seven years later, I'm still proud of THATCamp; I think it has been a model of sustainability among grant-funded projects, and I think it did a great deal to demystify the digital humanities and digital methods more generally for a whole generation of scholars and information professionals. The number of registered THATCamps has grown from 170 when I wrote that talk in 2013 to (my goodness) over 320 events today, a phenomenon that has taken place without a single full-time THATCamp employee, with just a dedicated distributed community and the hosting support of staff members at RRCHNM and Reclaim Hosting. The WordPress Multisite instance on thatcamp.org has 11,803 users, and while it's true that several hundred of those might be spam or inactive users, I think that's still impressive.
Nevertheless, as is natural, THATCamp is no longer as popular as it once was, and while people are still organizing and attending THATCamps and using thatcamp.org to do so, the rate has slowed so much that it no longer seems necessary to offer THATCamp website creation services. The THATCamp website network is a magnet for spammers and hackers, and keeping it secure is a significant amount of labor for RRCHNM sysadmins. We are therefore planning to "flatten" all sites on thatcamp.org, dialing them back to Web 1.0, as it were, by making them into plain HTML and removing their database-driven interactivity. This means no more blogging, no commenting, no forums, no new site registration, no new user registration, indeed, no user accounts at all. This also means that the content on all THATCamp sites, including the help documentation on how to organize a THATCamp, all session proposals for all THATCamps, and your contrbutions to the THATCamp retrospective, will remain in place to be read at the same URLs. We are also taking additional steps to preserve that content in other places (I'll blog that process, as well, since it promises to be interesting.) We plan to thus "turn off" the THATCamp website on Friday, February 28th (just before Leap Day!). We still encourage people to organize THATCamps and to use the #thatcamp hashtag, and we ask that you still register your future planned THATCamp event with a new Google form, but we will no longer provide new THATCamp websites and user accounts on thatcamp.org.
As we approach this change, we think it's a great time to do some reflection on the experience and impact of THATCamp. To that end, we have set up a website at retrospective.thatcamp.org and we would like to ask anyone who has been to a THATCamp (or to several THATCamps) to consider contributing a short reflective piece on THATCamp: its pluses, its minuses, the friends we made along the way, the hacks we hacked, the yaks we yakked. Video, audio, images, code, poetry, GIFs, glitches also welcome. If text, we ask that you limit your contribution to about 500 words. (Fewer is fine, as is a few more.) Please submit your reflection by February 21st, 2020February 25th. We might later seek to edit and publish your contributions in another medium, but if so, we will contact you for permission to republish them.
Looking forward to reading what you contribute.